April 2008
April 2007

by
2 others
Ten Javascript Tools Everyone Should Have
March 2007

by
5 others
Here are two locations that you can try out. The first location demonstrates how the script reacts to multiple containers. The second example shows how the script will behave when used on a full-width layout.
BBC NEWS | Technology | Spam reveals its darker side
by
14 others
Green River, Running Red - Ann Rule Crime & Thrillers / True Crime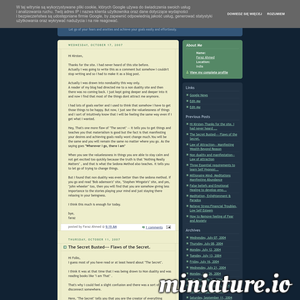 This is a paragraph of text that could go in the sidebar.
February 2007
by
12 others
Living Biographies Of Religious Leaders - Henry Thomas and Dana Lee Thomas Biography
by
9 others
Although Walter spent much of his time either getting into trouble or on the basketball court, secretly he was a voracious reader and an aspiring writer. But as his prospects for a successful future diminished, the values he had been taught at home, in sc
by
9 others
Firefighters love the excitement of a "triple." But this was a different beast. Rollovers, flashovers, backdrafts, this one had it all. Swallowed deep in the building, they found themselves trapped in a snarling furnace of ink-black smoke and blazing oran