September 2008
by
21 others
Educational Ipod Videos at Ipod Resources
March 2007
Meriwether Lewis Elementary School | 4401 SE Evergreen, Portland, Oregon 97206 - 503 916 6360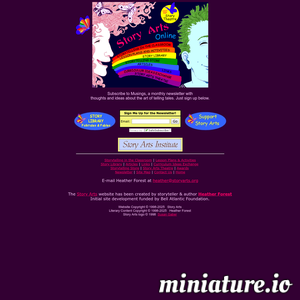 Storytelling in the Classroom | Lesson Plans & Activities Story Library | Articles | Links | Curriculum Ideas Exchange Storytelling Store | Story Arts Theatre | Awards Newsletter | Site Map | Contact Us | Home

by
1 other
Geeky Photos - Send us your shots!
by
1 other
Competitive intelligence, Search intelligence for online advertising and search marketing - Hitwise
by
1 other
We know that both genes and experience are important. Consistent nurturing and positive rich experiences result in flexible, responsible, empathetic and intelligent members of society. Neglect, chaotic environments, violence and abuse can result in aggres
February 2007
Recommend this site to a friend
January 2007
I guess the network was reset after the power outage. What is really responsible for this network behaviour?