April 2007
It is important to realize that serious study of thinking, serious thinking about thinking, is rare. It is not a subject in most colleges. It is seldom found in the thinking of our culture. But if you focus you
by
3 others
FamilyFun: Crafts - and More Family Fun

by
7 others
89. Get links from nearly-hidden sections of websites listing hundreds or thousands of off topic sites.
TweakGDS allows you to change advanced, undocumented settings for Google Desktop Search, without having to dig around in the system registry yourself.
by
2 others
&&&&It's a bit of a copyright gray area. If you furl a web page containing copyrighted content and then make your archive public, are you violating copyright? Good question. I haven't figured out the answer to that yet.
by
2 others
What must underlie successful epidemics, in the end, is a bedrock belief that change is possible, that people can radically transform their behavior or beliefs in the face of the right kind of impetus. Tipping Points are a reaffirmation of the potential f
March 2007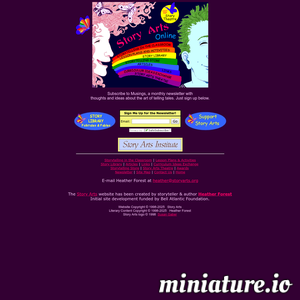 Storytelling in the Classroom | Lesson Plans & Activities Story Library | Articles | Links | Curriculum Ideas Exchange Storytelling Store | Story Arts Theatre | Awards Newsletter | Site Map | Contact Us | Home

Wedding Favors, Bridal Shower Favors, Wedding Party Favors, Personalized Wedding Favors, Wedding Decorations
February 2007