May 2008
by
38 others
Graphics Card Rankings #2 - Overclock.net - Overclocking.net
March 2008

April 2007 by
1 other
Putfile - Take It or Leave It 30
by
3 others
Yahoo! Music Unlimited: Access over 2 million songs - try it free!

by
4 others
Funny Videos, Extreme Videos, Stupid Videos, Flash Games, Funny Pictures, Funny Jokes - KillSomeTime.com
About: wxRemind is a wxPython-based front-end for Remind, a powerful calendar and alarm application. Similar to the curses-based Wyrd, the display features a calendar and daily event list suitable for visualizing your schedule at a glance. Dates and asso
by
1 other
Six years ago, University of Michigan information studies professor Paul Resnick asked the couple to participate in an experiment. Resnick wanted the Swansons to continue selling postcards through their established profile, but also to offer the same good
March 2007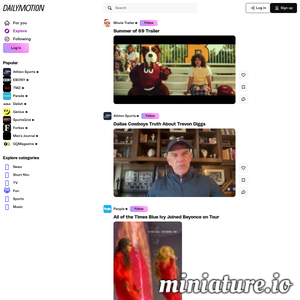 Video St-Barth Bucket 2006 - st-barth, bucket, endeavour, voiliers, race - Dailymotion Partagez Vos Videos

by
4 others
Thanks for checking out AmigoFish, a way of finding podcasts and videoblogs of interest to you. Sign up for an account, rate some shows and shortly you will get predictions based on what people with similar tastes to yours have rated. The more shows you r
February 2007
by
3 others
For details on installing all versions of dotProject go to Installation Instructions
January 2007 by
2 others
Drawing Coming Soon! Register a free account and gain XP points to increase your chance of winning the prize from our next drawing!