August 2008
by
36 others
To implement a system, the programmer must face the chore of creating an endlessly repetitive number of session and entity beans. When that project is finished, the programmer must start all over again on the next venture.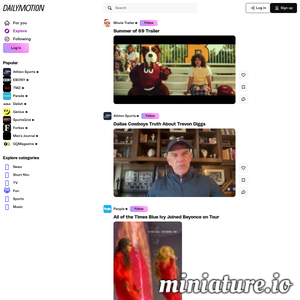 April 2007
by
1 other
This entry was posted on Friday, August 25th, 2006 at 4:31 am and is filed under Anti Stress Program. You can follow any responses to this entry through the RSS 2.0 feed. You can leave a response, or trackback
BoredMuch.com - Simpsons Millionaire
March 2007

by
2 others
ColorQuiz.com - The free five minute personality test!
Download each of the following zipped files. Add all the notes into the main notes folder of your iPod, and move the sounds to iTunes.
by
3 others
What a helmet can do is spread out and slow down the impact forces of a sharp blow to the head, which helps prevent the brain from banging around as violently inside your skull. The outer helmet shell is important, since it spreads the blow over a wider a
February 2007

by
1 other
Digital Imaging Accessories Review: The Great Battery Shootout

by
17 others
Image filtering takes more time than HTML or CSS filtering. If you use images to convey information or to present navigational elements, then you should filter images the first time you check your web page. After that firs
3. Devise a plan for positioning the Shuttle (green object) so that it is within 100 km of the ISS (red object) and also traveling at the same speed.
January 2007
by
1 other
A fiasco brewing in Crystal City appearred to be averted Friday, as city officails succeeded in kmeeping the repo man away from hteir polkice squad cars. Read more