13 April 2007 This page documents a geocoder/coordinate converter service, that brings together various conversions that this site can perform. It is not a true geocoder(wikipedia) in the true sense of the word, in that its unable to convert full textual addres
05 March 2007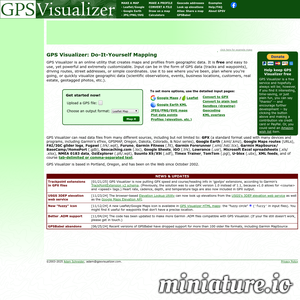 by
2 others
GPS Visualizer has a number of different map input forms that will import your data for various purposes. Use the one that best suits your needs.
03 March 2007 Biking Bis - Bicycle Touring and More :: washingtonridecalendar
02 March 2007
by
15 others
New! Check out the blog for information on updates and changes.
26 February 2007

by
12 others
KartOO uses FlashPlayer to draw interactive maps. This extension is already installed on 90% of the browsers. If you cannot see the maps, please click here to install Flash
25 February 2007