This year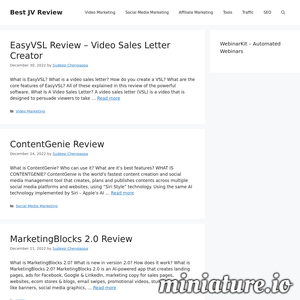 2018


by
equis
Social media marketing with private label rights


by
equis
The world's most powerful, most user-friendly membership software that lets you effortlessly create recurring income websites that turn one-time buyers into repeat customers. Make massive savings on overhead costs. Created and supported by a platform that is literally committed to seeing you make more sales and profits. Highly recommended for any online business.
2011


by
personmark
Want to know why you fail online? I see these traits again and again in people who want to build an online business/income!


by
personmark
Want to start an online business and start earning a passive income? In this post I'll share a process I've used to build two online businesses that generates cash from day one with less than $50.
2007


by
siji11
Do you know what I think the Internet is? It's only a tool that we can use to get in contact with other people! It's not a money machine, it's not a fast path to millions and it's not an easy way to earn money!


by
JAZZZ
A paid survey is a type of online statistical survey where the participant is rewarded through an incentive program. A paid survey is used to collect quantitative information about the participant's personal and economic habits. Often used by marketing firms to test new advertisements, they offer the participant a cash reward or entry into a sweepstakes program.

by
Vahid
There are many who love to start an online business that can be done from home. There problem is they don't know "how" and "from where". I believe the most important thing in starting a new business is making a decision. Without a serious decision, no business will be started.


by
hymsbb
Anyone can make money from google adsense.


by
Vahid
You should reserve your seat in this immense stadium now. It will be too hard or too late to do it when there are over 200 million websites. It will be even too hard to register a good and short domain name because all of them will be taken by the others.


by
Vahid
You maybe one of those who love to have a website or weblog that makes lots of money because you have heard about super-star webmasters and bloggers. That's a good idea but before you start working, just make sure that you are the man!
2006


by
kwaking
"My World", in addition to the already existing "About Me" page will allow ebay sellers the opportunity to introduce their products / services to millions of Ebay visitors. With this new Feature, Ebay sellers can enjoy the market platform already existing by attracting visitors to their unique websites provided by ebay. It is now a reality that, if an online business does'nt have a connection with ebay, it simply is'nt in business.


by
sportsguy
Article on how to build online revenue and what to realistically expect.


by
ifortune
Resources and opportunities for building a home internet business, earn $300+ a day. Also you can submit your own links, articles and ads, download hot ebooks for FREE!


by
markaustin
Marketing on the internet is a mystery for many people. One of the biggest problems with starting an internet marketing business is where do you get your information? Many people have been misguided, or even lied to about current marketing practices and procedures.