August 2008
by
14 others
I am desparate to catch one because I want to finish my Pokedex. And I already have beaten the Elite Four. ~~~ Jenny K ~~~
May 2008
by
32 others
Amusement Parks : Is Is A Bad Idea To Wear Glasses On A Rollercoaster
by
32 others
The youngest in the family is 19 so we dont want anything too young. What are some really good board games that are fun for hours, and why? ~~~ yahoooooooooo ~~~
by
26 others
phpLD Category Generator - No more category dumps!
April 2007

by
27 others
Yahoo! Podcasts - Discover and enjoy all the best podcasts and vidcasts
March 2007
Kathy took the wheel and they slowly chugged, up and down the waves, inching steadily toward safety. Yet the panic stayed, her heart clutched in on itself, her breath almost stopped. She could barely see, barely breathe.
February 2007
But the Book Thing is in jeopardy. According to Wattenberg, the new owner of the building where it is housed raised the rent on the basement from $235 to $525 per month. Because the new lease is month-to-month, that figure could keep rising.
by
1 other
Herald Tribune - Starting next year, eighth-graders will be required to take a career planning course, where they will use an online program to help them choose a major. Many eighth-graders around the state are using the program this year to determine wha by
1 other
The CSE Colloquium normally meets Tuesdays and Thursdays at 3:30 p.m. in EE-105 on the University of Washington campus. The public is invited. (The annual Distinguished Lecturer Series meets at different times and/or places.)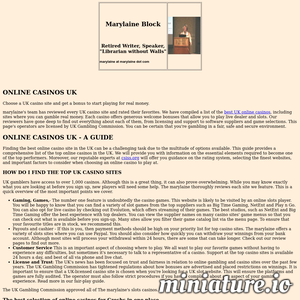 by
2 others
Neat New Stuff on the Net - Weekly Reviews of New Sites by Marylaine Block
January 2007
Colloquia are held in the auditorium of the Array Operations Center in Socorro, New Mexico. All are welcome, but the talks generally assume a good grounding in research astronomy.