2015
2010
2007

by
zoofusa
video conference room


by
CamChat
&
4 others
Fatal Bazooka. Le Clip. L'officiel by Mickael Young


by
Gratuit Technologie
&
4 others
Fatal Bazooka. Le Clip. L'officiel by Mickael Young


by
Radio-Music
&
4 others
Fatal Bazooka. Le Clip. L'officiel by Mickael Young


by
Video Clip
&
4 others
Fatal Bazooka. Le Clip. L'officiel by Mickael Young
2006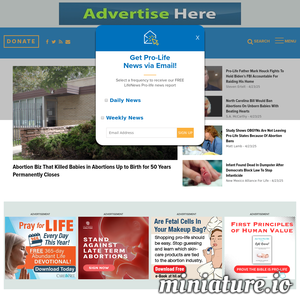 by
jasontromm
The Food and Drug Administration may have approved sales of the morning after pill over the counter, but some pharmacists are reluctant to sell the drug. The agency's move to sell Plan B without a prescription may expand the nationwide debate about a conscience clause for pharmacists to allow them to opt out of dispensing the drug. ()() The widespread practice of abortion as birth control in the Unied States will end with a whimper. We won't need the big bang of a Roe v. Wade being overturned.


by
jasontromm
[O]ne Sunday morning, I cracked. We had been led through endless repetitions of a meaningless ditty called, "Draw Me Close to You." The song has zero theological content and could be sung in a nightclub, for that matter. When I thought it was finally and mercifully over, the music leader beamed at us and said in a cheerful voice, "Let's sing that again, shall we?" "No!" I shouted loudly. Heads all around me spun while my wife cringed.
2005


by
jasontromm
(via)
Sometime late last night and/or early this morning I received a rather suspicious message from someone who would only identify himself/herself as "Jack Florey," telling me that rather interesting, picture worthy items had mysteriously appeared on and around the Little Dome, Lobby 7, and the Infinite Corridor. I take my blogger responsibilities quite seriously and hurried over to get pictures before things were taken down.


by
jasontromm
(via)
A woman is suing the Pizza Hut in Lehighton, Pa., because the hot poppers she ordered as an appetizer were, well, hot and popped when she bit into them. Sorana Georgescu-Hassanin claims she may be permanently impaired because the ''excessively hot'' oil in the deep-fried, cheese-stuffed hot pepper severely burned her chin.


by
jasontromm
(via)
Mary Mapes, the producer fired from CBS News for her role in the 60 Minutes story about President Bush's National Guard service, has written a book to explain her side of the story. On today's Good Morning America she talked to ABC's Brian Ross about that book and the forged documents used in the Bush story.


by
jasontromm
&
6 others
NPR Podcasts include selections from Morning Edition, All Things Considered and other award-winning programs from NPR and partner organizations.