2020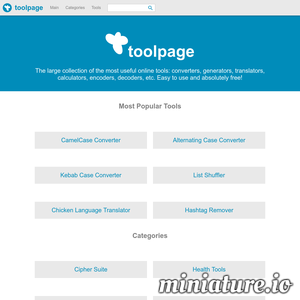 by
decembre
The large collection of the most useful online tools: converters, generators, translators, calculators, encoders, decoders, etc. Easy to use and absolutely free!
2009
2007


by
webkool
KeepV Flash Converter is onether application to convert flash videos (FLV) to AVI (divx), MOV (MAC), MP4 (IPOD, PSP...), 3GP (Mobile). With this tool you can download and save in your preferable hardware videos from youtube and see it more later. This new tool is faster and better than most transcoders .
2006

by
rickdog
&
11 others
* Convert a RSS or Atom-based feed into RSS, Atom and/or HTML and JavaScript * Merge/splice several RSS or Atom-based feeds into one combined RSS and/or Atom feed * Put an RSS feed (or merged feed) on your webpage using an IFrame or JavaScript) by
hchicha
&
2 others
Utilities and Freeware Downloads: FreeWareFind provides only the best, freeware, top rated desktop, game, internet, graphic, multimedia and system software applications and freeware utilities for download.