This year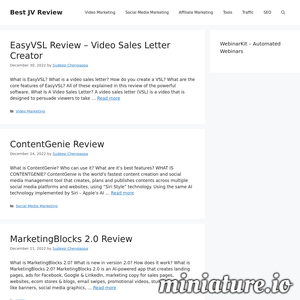 by
equis
Turn boring static photos into visually captivating 3D sketch videos using the power of AI and video animation technology. Convert any image into 3D sketch videos and animated videos.
2009


by
knann
&
11 others
Blender is the free open source 3D content creation suite. Take a look at the gallery to see what is possible. Definitely read the Quick Start tutorial to save yourself from frustration!


by
knann
&
2 others
Create 3D movies using this Text-to-Movie tool!
2007


by
cgshelf
A great interview.


by
cgshelf
Autodesk maya tutorials.


by
cgshelf
CGShelf is a unique tutorial destination that provides distinctively creative and comprehensive tutorials for cg artists across the globe. It's an abode where the highest levels of creativity and technology come together. CGShelf create easy to use, well laid out and step-by-step CG tutorials on the Internet. CGShelf offers a collection of tutorials for flash and actionscript. CGShelf tutorials are aimed for beginners, intermediate and advanced readers.
2006


by
shunjie
Singapore Media Institution

by
fresch
3D Animation at Vancouver Film School is a one year full time program. Offers hands-on professional training taught by experienced animators. Graduates work in Film, TV, and Digital Media.

by
fresch
CYGAD's 3DXtra - The finest Resources for 3D Artists and 3D Developer!

by
fresch


by
fresch
&
14 others
3D Total - The CG artists homepage, daily news with links to all the best 3d animations and site. Huge libraries and galleries with free downloads (meshes/textures etc) and amazing artwork.

by
fresch
Simply3DWorld is your first choice in 3d tutorias, interviews with 3d artists, and news and information for the simply3d network of sites.