June 2008

by
47 others
Danke für die vielen tollen tips
May 2008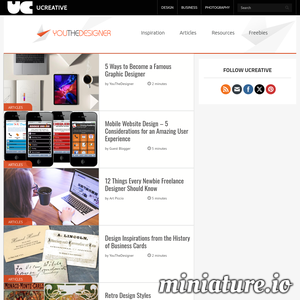 by
28 others
30 Delightful Graphic Design Books | You the Designer
April 2008
by
37 others
Pay Per Click Management Services, PPC advertising, PPC bid management
March 2008
April 2007

by
28 others
Amberjack: Site Tour Creator - Simple. Free. Open Source.

Web Design References: Tools
March 2007

by
9 others
Good news for German Nucleus CMS users! Christian Breker, a German Nucleus CMS user, has set up a project to fully translate Nucleus CMS in German. This full translation includes the installation wizard, skins, admin area, etc.

by
8 others
ReviewMe LaunchedReviewed By Andrew Faulkner
February 2007

by
7 others
Finally, remember that your plan is for a Web design/development firm, not the next Microsoft (yet). You only need a finite number of clients or projects per month to meet your financial goals. Moreover, in most markets, that number is achievable by those
Hong Kong SEO - Chinese SEO (Search Engine Optimization) Provider in ... Yo-So is the leading SEO service provider in Hong Kong. ... WEB DESIGN & WEB HOSTING. We provide total web design and hosting solution that comes with SEM