July 2008
by
24 others
Last Words Of: Che Guevara, revolutionary
April 2007

by
7 others
89. Get links from nearly-hidden sections of websites listing hundreds or thousands of off topic sites.
by
2 others
&&&&It's a bit of a copyright gray area. If you furl a web page containing copyrighted content and then make your archive public, are you violating copyright? Good question. I haven't figured out the answer to that yet.
March 2007 by
8 others
Because learning is good, and remembering is better.

by
2 others
Jessica Mulligan, executive producer at Turbine Games, confirmed these numbers to me: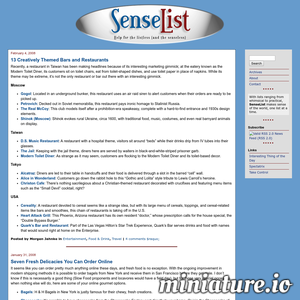 by
3 others
12 lessons I learned by responding to spam | SenseList
February 2007
Celebrity Pictorials - Carmen Electra HOT!
January 2007 May Allah grant us success in this world and in the Hereafter, ameen!